September 2016
August 2nd, 2016 - "It has been a couple years since I've written anything for the band. I have been restless as of late to begin writing again. I have been working towards re-branding both the band and the sound and have begun working on new demos here in the studio. This will be a lot different than the Weak Need's earlier material but we needed a change and this is a big one."

​ ---Sean
---
the Weak Need 2007-2014
---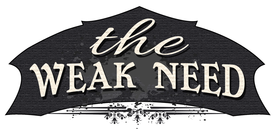 In 2007 Sean Croley had decided to release an EP (Walk) of some songs that he had been writing under the musical pen name; "the Weak Need". He then used that EP to find players to form an actual band. In 2009, the Weak Need released their first CD entitled "Restitution". This CD was promptly nominated for a GMA Modern Rock Alternative Album Of The Year. 2010-2011 saw the band playing shows in Toronto on such iconic clubs as The Rivoli, The Tattoo Rock Parlor, and The Hard Rock Café and in 2012, they released another album entitled "Everything But You" but failed to go out and play in support of this project.

Shortly after this CD came out, Croley decided to step out of the band as it became much more of chore than a joy. Rehearsals were lack-lustre, gigs were few and far between and the rest of the band seemed rather apathetic. This was an extremely difficult decision for him to walk away as he still believed in the music, just not the approach. Within a few short days after Croley's decision, there was a new writing freedom that came over him and he hunkered down in his basement studio and started both writing and recording immediately. Sean drew on his vast loop library, band samples and samples from their previous CD's, along with virtual instruments and was writing an average of a song a week spending up to 18 hours a day in the basement. Ready For Rome (Released April 2013) was the culmination of that time and effort. The very next morning after Ready for Rome was released Sean was right back at it in the studio and began writing for the next project which he called "The Ascent", a radio friendly 8 song EP. Once again Sean has chosen to release The Ascent project under the pen name as well with his reason simply being this; "…the Weak Need name is simply a vessel to deliver the songs that I have written. The players themselves are the essential parts that make up the heart and soul of the band."

In early 2014, Sean was asked to do the scores for two indie films. In one of these films, there were two specific scenes where he felt it needed a "band piece". The scenes were about a minute each so he wrote one minute of a non-existent real song, just a verse and a chorus. These stuck with him and when these film projects were completed, he developed these into full songs which can now be heard on the latest release, Write it Real. Those two songs are: Pretty Little Thing and Holding Nothing Back. Sean called friend and guitarist Tony Lind to play on these tracks and everything really clicked. Shortly thereafter, Tony and Sean sat down and co-wrote a couple of the other songs for the EP (Good Favor, Childhood Mornings) The Weak Need released another EP entitled "Write it Real" in October that year but after selling no more than 10 copies, it became apparent to Sean that the Weak Need needed to be preserved but no longer pursued.
---